Thank you for your interest in volunteering! Volunteers are essential to our mission of providing a better life for pets and the people who love them. We have hundreds of dedicated volunteers who expand our impact in the community and enhance the lives of homeless pets through a variety of avenues. If you would like to join us, please read below to find out if volunteering with Great Plains SPCA is right for you!
What are the requirements to volunteer?
Time commitment varies by role
Grace, accountability and respect for your fellow volunteers, GPSPCA staff and our guests
Support for Great Plains SPCA's mission
An active e-mail for receiving volunteer communications
$17 new volunteer fee, which covers training and a t-shirt
Dog walker volunteers must purchase a leash at our retail store (or have an approved leash)
How do I get started?
To become a volunteer, please follow the steps below.
Watch our New Volunteer Information Session video.
Take and pass the New Volunteer Quiz.
Once you pass the quiz, you will be prompted to complete your volunteer profile and application.
Once your application is submitted, it will be reviewed and if approved, you will be sent a link with next steps.
Start volunteering!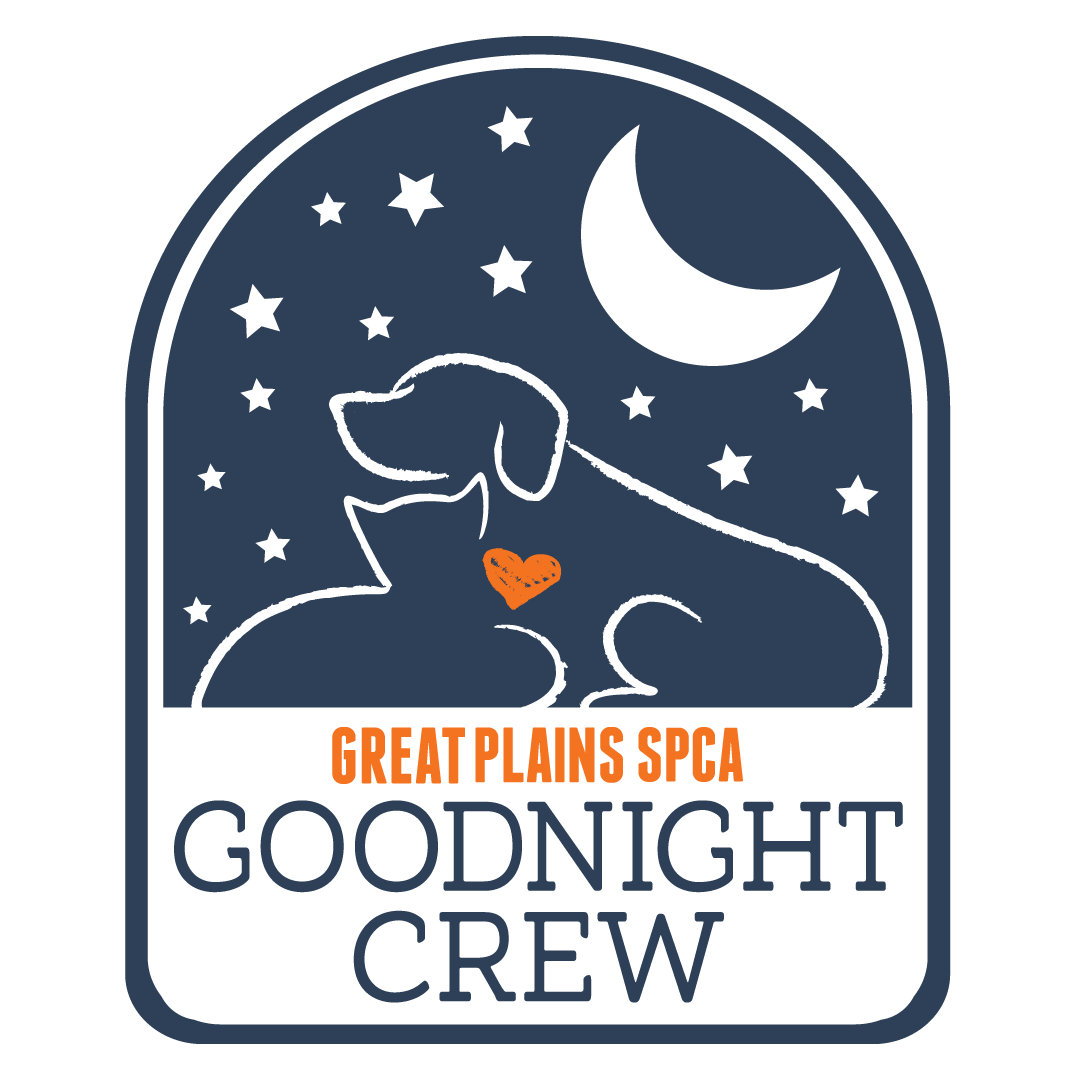 Help us provide extra enrichment and walks before getting the animals tucked-in for the night! Starting this July, shifts are from 6pm-8pm.
To join the Goodnight Crew, you must have completed a Dog or Cat Mentorship and to sign up, look for available shifts in Better Impact on the Opportunities tab.
What types of roles are available?
We have temporarily stopped accepting new volunteer applications while we take time to make updates to the volunteer recruitment and training processes. If you are interested in being notified when we are accepting applicants again, please fill out this interest form.
Foster Homes
Each year we place hundreds of pets into temporary foster homes for medical and behavioral reasons. For more information and to start fostering, please go to our foster page for more information and to access the application.

Community Service Hours
Please note that at this time, we cannot accommodate individuals who need court-ordered or work/school-required community service hours.
Age Limits
Great Plains SPCA is committed to helping people of all ages experience the true joy pets bring into our lives, however, due to the nature of the shelter environment, we have volunteer age requirements to ensure both pets and people stay safe and comfortable.
Volunteers must be at least 13 years of age to interact with our animals. Volunteers between the ages of 13 and 16 must be accompanied by an adult parent or guardian at all times, including while completing all of the new volunteer steps in the process above.
Volunteers 16 and older may volunteer independently without an adult.
School and Community Group Volunteer Opportunities
We love working with school and community groups who want to help with tasks at the shelter. However, our space is quite limited to host large groups.  We offer one 90-minute group volunteer opportunity per month. Group size is limited to 15 participants and we ask that there be one chaperone per eight children. Your group can also provide invaluable help offsite from the shelter. You could organize a fundraising drive for pet food, collect monetary donations for the shelter, or you could collect items from our
Wishlist
to donate. Once your drive is complete, we can schedule a time for you to deliver the donations to the shelter and do a quick tour and photo session.
Great Plains SPCA Top Paw Volunteer of the Month
Jane Bacon
Jane has logged 586 in the year 2021 alone! 

As a long-term PAC receptionist, Jane is amazing! 

She is outgoing and kind to every person who walks into our lobby. 

Words our staff used to describe Jane: punctual, outgoing and kind. 

Jane is appreciated for her smile and her laugh. 

It is so wonderful to have someone up front who is as well-trained and accurate as Jane. She is a true help to all of us! 
In Jane's words: My favorite part of being a PAC receptionist volunteer is seeing all of the pets go home with their perfect fit family! 
Peggy Nitz
Peggy has been a volunteer since 2011!
So far in 2021, has logged 600 volunteer hours
Amazing Dog Hero and valued Dog Mentor
Works with some of our toughest behavior dogs
Great at taking dogs on furloughs for a break
In Peggy's words: Seeing a frightened insecure dog develop into a loving playful pet is so reward-ing. Knowing that I might have played a small part in that transformation is the cherry on top. We all know that shelter dogs are not broken, they just need to be given a chance. We adopted Bella from GPSPCA when she was nine. Unfortunately she passed away earlier this year, but during her time with us, she served as the therapy dog for several adult care facilities. She reveled in bringing joy to people who had lost hope, hope offered by a loving senior pet who had survived turbulent times to go on to love others and to be treasured. 
Holly Toner
Holly is a newer volunteer to GPSPCA, however, since she started with us she has helped the shelter in so many different ways! Holly and her family started off by fostering a stressed adult dog and then a few litters of puppies. She promoted them on her Instagram page and all of the puppies were adopted due to her promotion efforts. She continues to foster on a regular basis, and still makes time to be a Dog Hero! Holly walks dogs, takes cute, flattering photos of them for us, and will collaborate with our Marketing Dept. to sponsor behavior training for our long-term shelter dogs. Holly has also been a huge help in the PAC reception area, helping to hold down the fort! Holly goes way above and beyond to support all of our pets at GPSPCA! She has made a huge impact on the shelter in a short time!