Great Plains SPCA's Behavior and Training Program works to keep pets in forever homes and prepare homeless pets for adoption. The behavior and training program adds tremendous value to the community and Great Plains SPCA's lifesaving mission through public classes, staff and volunteer training, enrichment programs for shelter residents, and behavioral support to adopted dogs and their new pet parents.
Great Plains SPCA is Fear Free!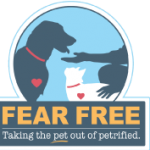 The Fear Free Shelter Program provides online and in-person education to veterinary professionals, pet professionals, and pet owners. They have created Fear Free Shelter Program to improve the experiences of animals by education shelter and rescue employees and volunteers about their emotional needs. For more information about Fear Free, please check out their website at https://fearfreeshelters.com/
Behavior Consultation Fees:
If you have any questions about our Behavior & Training classes, please feel free to email behaviorteam@greatplainsspca.org.
In-home behavior Consultations for a member of the public are $150 an hour per pet.
In-Home Consultations for GP Alumni are $100 an hour per pet.
On-Site Behavior Consultationss for Public person are $150 an hour per pet.
On-Site Behavior Consultations for GP Alumni are $75 an hour per pet.
Each six-week session costs $200. The fee for basic training classes is non-refundable.
Upcoming Public Training Classes:
March 25th – May 6th (Saturdays) from 2:00 – 3:00 PM (Skipping Easter Weekend)
March 26th – May 7th (Sundays) from 2:00 – 3:00 PM (Skipping Easter Weekend)
April 4th – May 9th (Tuesdays) from 6:00 – 7:00 PM
April 6th – May 11th (Thursdays) from 6:00 – 7:00 PM
We offer one-on-one Advanced Training classes for graduates of our Basic Obedience Training classes. If you would like to know more about our Advanced Behavior Training, please email behavior@greatplainsspca.org. 
Our Great Plains SPCA Alumni can receive a $50 discount promo code*.
To get the discount code, please email behaviorteam@greatplainsspca.org and give us:
the name of your dog when it was adopted
the date it was adopted
your name
*Once verified, our behavior team will provide you with the discount code to use at checkout.
A+ students! All good dogs pictured were star pupils in our basic level training classes. It's so nice to see our Great Plains SPCA Alumni doing so well in their forever homes! We have new classes starting soon!
What our graduate families are saying about our classes...
"All your help has really made a difference in our home. We have seen a lot of improvement!"
"Excellent class with fun atmosphere and exceptional expertise. Wonderful accommodations and we loved our class so much."
"Our Training was fabulous and she talks to the dogs."
You can also support the Behavior Team and their training by contributing to their enrichment needs through their Amazon Wish List. Click on the button to see what items they need.