We are sorry to hear that you are considering surrendering your pet. We urge you to exhaust all other resources and alternatives before surrendering your pet. We want to help you find solutions to any issues you are experiencing so that you can keep your pet, but we also understand that sometimes a situation may be beyond your control and you need to surrender your pet. 
An animal shelter is a stressful environment for any animal, but especially for pets that are accustomed to living in a home. Even the best shelter in the world can be a very stressful place for a family pet.
If your pet is struggling with behavior issues, there are many resources available to help identify the issue and work towards a resolution. Great Plains SPCA has a highly skilled Behavior Team which can provide advice and training.
Like family members, when a pet is having a medical issue, you want to get them the care they need. A list of low-cost veterinary clinics is located here.
If you adopted your pet from Great Plains SPCA and within seven days of adoption your pet is having a medical issue that was likely acquired during its stay at the shelter, our Shelter Medicine Team can see your pet for a post-adoption appointment. Call our Shelter Medicine Clinic at (913) 742-7310 to schedule an appointment. If it has been more than seven days since adoption or your pet is experiencing a new medical condition, please call your veterinarian.
Is Your Recent Adoption Not Working Out?
Welcoming a pet to its new home can be a significant adjustment for a pet and its new family. It is common for new pet owners to experience challenges. We subscribe to the Rule of 3s when a pet goes to a new home: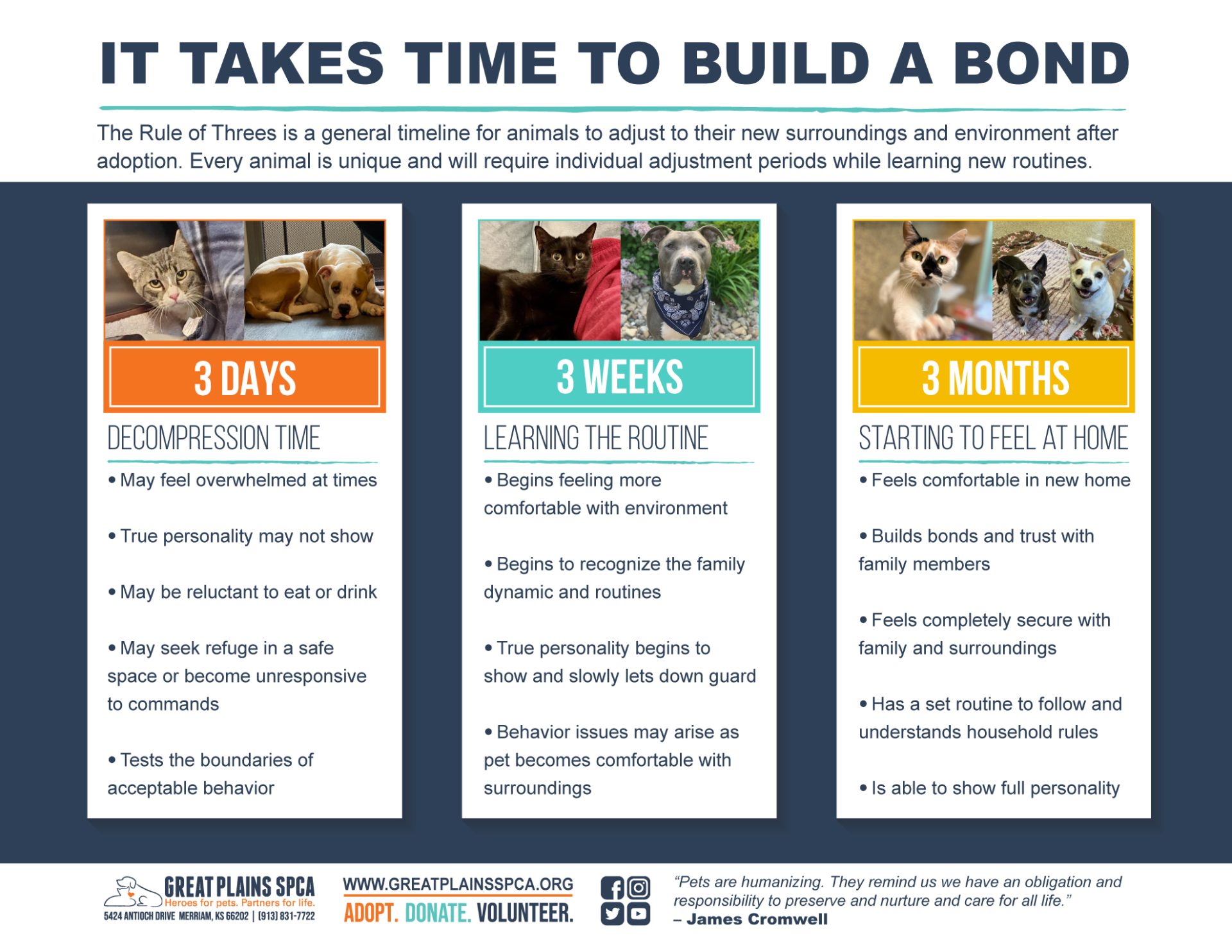 3 Days: Within three days, your new pet is slowly opening up, learning your routine and figuring out how they fit in. Your pet may be feeling overwhelmed or anxious, may not be comfortable enough to show their true personality and may test boundaries.

3 Weeks: Within three weeks, your pet understands they are yours and what their place in your home is. Your pet is feeling more comfortable, getting used to your routine, showing their true personality and displaying new behaviors.

3 Months: Within three months, your pet is an official established member of your family. Your pet feels comfortable in your home, has built trust and a true bond with you, is set in a routine and understands your expectations.
Hopefully your pet is somewhere on this schedule, but if not, we may be able to help. Feel free to call our Admissions Team who can assess your situation and connect you with resources for support.
Surrendering your pet to an animal shelter should be considered as a last resort. We are very proud of the care we provide pets at Great Plains SPCA, but it is no substitute for home, so please consider all available alternatives prior to surrendering. Rehoming your pet could be a good option, but it is often difficult to know where to start. Below are some tips to help you make it a safe process for you and your pet.
Charge a Rehoming Fee
Charging a rehoming fee ensures you that any interested families are genuinely committed to owning a pet and are fully ready to take on the cost of being a pet owner. When posting on the web or in the newspaper, do not use the phrase "free to a good home." Advertising with no fee could potentially attract people with bad intentions for the pet. We recommend not using Craig's List to rehome your pet.
Provide Behavioral & Medical Information
Providing potential families with any behavioral or medical information is essential to ensuring that the new family meets your pet's needs. List out the pet's behavior by disclosing its activity level, where the pet stays when it is home alone, how your pet reacts to other pets, how the pet reacts to children, what commands the pet knows, and any other behavioral information you think the new family should be aware of. Include information about any medical history of the pet, what medications it may be on, and a copy of the latest vaccination records.
Update
If your pet has a microchip, make sure that the new family has all the information they need to change the microchip information. Provide the adopter with Great Plains SPCA's information and invite them to use us as a resource. We are happy to assist with the transition between homes.
Use the Internet
Facebook groups or adoptapet.com can be great tools for rehoming your pet, but only if it is done correctly with your pet's safety in mind. As the current owner, you will know your pet's needs better than shelter staff ever could, and the pet gets to hang out at home with you until s/he finds a forever home! How do you know if your pet will be safe? The answer is to screen, screen, screen! Ask for their vet's information and call to make sure their former and current pets are medically being taken care of. If you want, do a home visit. Make sure the adopter can legally have your animal– city breed restrictions and renter's agreements should lay out what kind of animal can live there. Call the property manager to find out if renters are allowed to have your animal. Use a copy of our Dog or Cat Adoption Survey as a tool for screening questions to ask. Make sure all of these expectations are clearly expressed on the posting as adoption requirements.
If you have exhausted all other options and surrendering your pet feels like the best next step, you may apply to surrender your pet.
Surrender Fees
We charge a fee to help cover some of the costs of caring for surrendered pets. Our surrender fees are as follows:
If your pet is current on vaccines and altered – $100.
If your pet is current on vaccines but not altered (or vice versa) – $125.
If your pet is not current or altered – $150.
If your pet needs dental work or extra medical care – $200+
Litters of puppies/kittens – $75 for the first one and $10 per littermate after that.
You Must Make A Surrender Appointment
We are a private, non-profit shelter that does not euthanize for time or space. Because of this, we operate on a by-appointment-only basis for both stray and owned animals. We often have a waiting list, so you will likely have to wait for a period of time before you surrender your pet. This can be several days to a few weeks, depending on available space.  
If you would like to start the process of surrendering an animal to us, please click on the appropriate surrender questionnaire below. A member of our team will be in contact with you. We appreciate your patience while waiting for a response during this time. We will not consider your surrender request or make an appointment unless you have submitted a completed application.
We do not accept every pet that is presented for surrender. We will consider your pet's medical needs and how your pet will react to the shelter environment. In addition, all cats must test negative for feline leukemia because Kansas law prohibits us from offering cats for adoption if they have this disease.
If you have found a lost animal that you cannot hold onto, do not bring it to Great Plains SPCA. Chances are the pet has a family that is searching desperately for it, and the steps you take next will help them be reunited as quickly as possible.