Great Plains SPCA's Behavior and Training Program works to keep pets in forever homes and prepare homeless pets for adoption. The behavior and training program adds tremendous value to the community and Great Plains SPCA's lifesaving mission through public classes, staff and volunteer training, enrichment programs for shelter residents, and behavioral support to adopted dogs and their new pet parents. You can also support the Behavior Team and their training by contribute to their enrichment needs through their Amazon Wish List. Click on the button to see what items they need.
Our Basic level classes are offered Fridays or Saturdays from 6pm-7pm. These classes cover sit, down, shake, stay, leash manners, not jumping up, sharing toys and treats and a variety of other behaviors!
Basic Obedience Session 1
Mondays from September 16th – October 21st from 6:00 PM – 7:00 PM
Fridays from September 20th – October 25th from 6:00 PM – 7:00 PM
Saturdays from September 21st – October 26th from 1:00 PM – 2:00 PM
Basic Obedience Session 2
Fridays from November 8th – December 20th from 6:00 PM – 7:00 PM

This is the ADVANCED training course and it is recommended your dog has graduated from the BASIC training course at Great Plains SPCA prior to taking this course. Please email behaviorteam@greatplainsspca.org with questions.
Advanced Obedience Session
Mondays from November 4th – December 16th from 6:00 PM – 7:00 PM
Each six-week session costs $200.
Our Great Plains SPCA Alumni can receive a $50 discount promo code***.
To get the discount code, please email behaviorteam@greatplainsspca.org and give us:
1) the name of your dog when it was adopted
2) the date it was adopted
3) your name.
***Once verified, our behavior team will provide you with the discount code to use at checkout.
A+ students! All good dogs pictured were star pupils in our basic level training classes. It's so nice to see our Great Plains SPCA Alumni doing so well in their forever homes! We have new classes starting soon!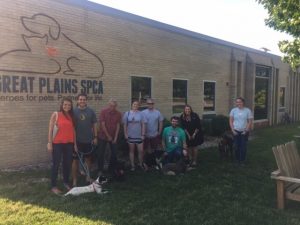 K.I.S.S. Dog Training Class Sessions
K.I.S.S. Dog Training Class Sessions held at the Merriam Campus are held on Tuesdays and Thursdays.
*Please note, public classes for our Merriam Campus are coordinated through K.I.S.S. Dog Training. Registrations will also be processed under this name. K.I.S.S. Dog Training DOES NOT honor GPSPCA Alumni Discount.