Admissions Hours of Operation
Open Wednesday – Sunday 10am – 5pm. 
We are closed on Monday and Tuesdays except for Animal Control and owners who are reclaiming their pets.
We are at capacity currently and are unable to take in any large dogs (dogs 30lbs and over)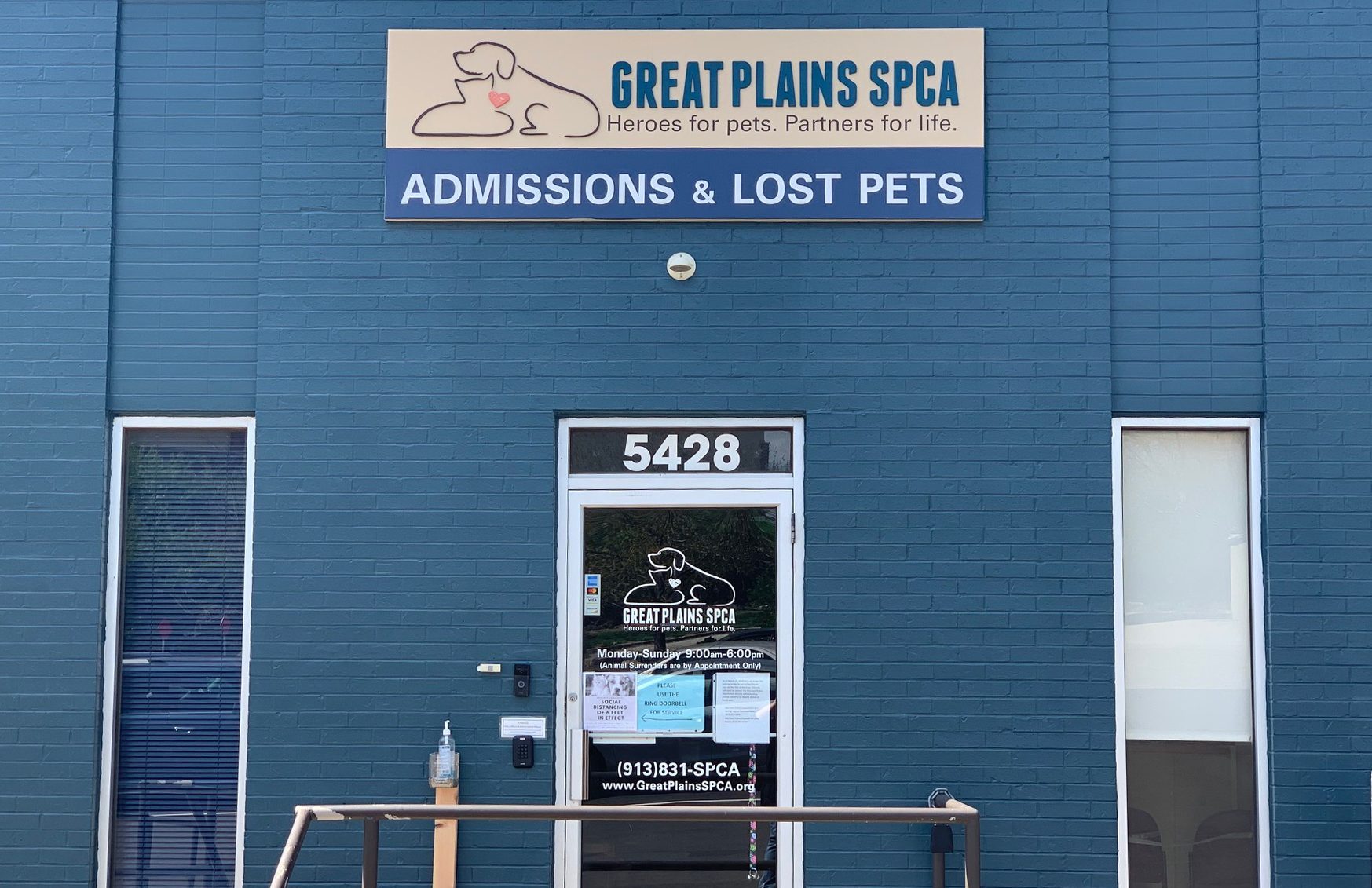 Animal control agencies for Overland Park, Leawood, Lenexa, Prairie Village, Shawnee, Bonner Springs, Lake Quivira and Johnson County Parks Department and Johnson County Sheriff's Department. take their animals to Great Plains SPCA at (913) 742-7329.
We offer residents in cities listed above 20% off microchipping services!
Quick Reference Resources
Links & Contacts to Animal Control and Area Shelters
Overland Park: (913) 895-6300

Bonner Springs: (913) 422-7676

Lenexa: (913) 477-7385

Merriam: (913) 782-0720

Shawnee: (913) 631-2150

Mission (for Fairway, Mission, Roeland Park, Westwood, Westwood Hills, Mission Woods):
(913) 782-0720

Prairie Village & Mission Hills:
(913) 642-6868 ext. 4631

Leawood: (913) 642-5555

Olathe Animal Control & Shelter:
(913) 971-6362

KCK Animal Control & Shelter:
(913) 321-1445

KCMO Animal Control:
call 311 or (816) 513-9821
Return to Home Requirements
Great Plains SPCA requires proof of ownership to reclaim a lost pet from our facility.
There are several ways you can prove ownership. In most cases, this involves records that you should already have in place, including and not limited to:  
Registration/license 
Veterinary records 
Adoption Records 
Microchip Records 
Pet insurance documentation  
Transfer of ownership agreement 
Pedigree registries 
Recent photos or video your pet  
Identification tags on the pet (must match claimant/owner information)
Historical pet record in Great Plains SPCA database(must match claimant/owner information)
* One document/form of ownership required
Is your pet lost? Have you found a pet and are trying to reunite them with their owner? Below are a list of resources that help connect pets and owners in the Kansas City metro.


As of March 1st, GPSPCA is no longer the holding facility for stray/lost/found pets for the City of Merriam. Citizens will need to contact the Merriam Police department directly with any stray animal concerns or reports of lost or found pets.
Merriam Police Department M-F during regular business hours: (913) 322-5560
Merriam Police Dispatch for after hours: (913) 782-0720
How to keep your adopted pet safe and secure
Newly adopted pets are at a higher risk of escaping their homes in the first 2 weeks of adoption. Please review the recommendations below to best keep your pet safe and happy.
Secure your dog with a fitted collar and leash. We recommend purchasing a harness and Martingale collar.
Secure your yard and make sure there are not any holes in the fencing or open gates.
Do not leave your dog unsupervised outside. Even in fenced areas.
Make sure exterior doors are closed and locked securely at all times.
Leave the leash on your dog in the car and ensure they are secured while entering and exiting the vehicle.
Make sure your dog is secure on leash or in kennel/room when you enter or exit exterior doors.
What to do if you lost sight of your dog
Post on social media
File lost pet reports with local shelters and animal control in your area and surrounding areas.
Call us!! We are here to help.
Put up fliers in area.
Talk with neighbors, ask them to keep an eye out. Remind them not to chase!
Leave food in area where last seen.
Alert your microchip company that your pet is missing and update your contact information up to date.
What to do if your dog gets loose
Do not chase!!! It's so hard not to do this, but it will push the dog further away.
Stay calm and remain close by without running after the dog, but keeping them in your sights.
Bring high value food/treats…scatter it and leave bowl out around yard/home area.
If you have another pet, take the dog out with you to look.
Once spotted, try to lure the dog back with you towards a secure yard or home. chasing or attempting to leash could make a dog bolt again.
If the dog freely returns to you and is not afraid or fearful, leashing is obviously fine.
Community Cats
In the greater KC Metro and beyond we often see (or even care for!) community cats.  Community cats, also called feral cats, are unowned cats who live outdoors. Like indoor cats, they belong to the domestic cat species (felis catus). However, community cats are generally not socialized, or friendly, to people, and are therefore unadoptable. They live full, healthy lives with their feline families, called colonies, in their outdoor homes. They are masters of their domain, finding resources such as food, water, and shelter on their own– even in extreme cold and heat. Email
tnr@greatplainsspca.org
for more information.
With that said, there are ways in which we can help these cats:
About Our Lost Pet Resources Page:
These resources are compiled in loving memory of Janice Martin.  In 1971, Janice founded the Kansas City metro's Lost Dog Registry, a tool that helped unite thousands of missing dogs with their owners.  For decades, Janice worked tirelessly as a volunteer in the local animal welfare community.  Her passion and dedication to improving animal's lives and reuniting pets is unparalleled and continues to drive positive change in the animal welfare world.