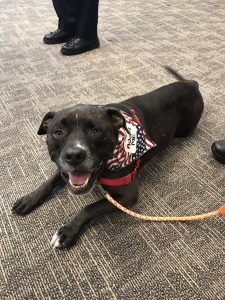 Time out of the shelter can do amazing things for our pets. Recently, the Lenexa Police Department has partnered with our team to take shelter dogs on day-long field trips.
In June, they took terrier mix Starlah out for the day, and she was adopted not long after.
This month, black lab mix Julie hiked around Blackhoof Park, stopped at Sonic for a doggie cone, got lots of cuddles from members of the community and took an afternoon nap at the police station. She went to her furever home less than a week later.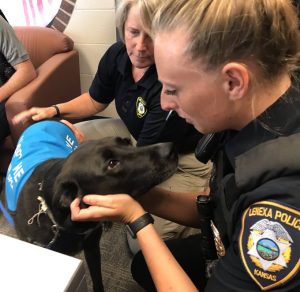 Master Police Officer Danny Chavez said the department wanted to partner with Great Plains to raise the visibility of animals available for adoption in hopes of finding them a permanent home, especially since Lenexa is one of the nine municipalities who sends lost and homeless pets to Great Plains.
This Paw Enforcement program also helps area police departments improve community relations – what could be better for conversations than a cute dog to talk about? And Lenexa isn't the only department interested in supporting our shelter pets. Look for a Paw Enforcement outing soon with Shawnee Police!
Have an idea to get our animals more exposure in the community? Email info@greatplainsspca.org and share!