At Great Plains SPCA, we love to witness how pets and people rescue each other. In veteran Eric Sanford's case, his rescue dog, Rollie, was no exception. Sanford adopted Rollie through Great Plains SPCA's partnership with
Battle Buddy Service Dogs
to help reduce his PTSD symptoms. Battle Buddy Service Dogs is a veteran-operated, nonprofit organization based in Kansas City that pairs veterans with trained rescue dogs to help them cope with symptoms of Post-Traumatic Stress Disorder or Traumatic Brain Injury. The dog and the veteran train together for six to nine months tocreate
a bond and eventually mentor other Battle Buddy participants after graduating from the program.
Sanford decided to adopt Rollie after struggling with PTSD symptoms when traveling frequently for work. "I wanted a dog who I had a connection with, and I felt like a shelter dog could give me that," Sanford said, "I feel like, in a way, Rollie chose me too."
The duo has been working together for months now, and Sanford is looking forward to seeing more positive results through Rollie's continued training in the upcoming months. "We've really got a close bond going, " Sanford said, "As we work together, his confidence has grown, and me seeing that has helped my confidence to grow as well."
Kindest Kansas Citian? We're blushing!
Cottonwood Point Elementary second grader Tristen wrote an essay for a school project about who she felt was the Kindest Kansas Citian, and we were honored to hear that she thought Great Plains SPCA deserved the title!

When Tristen's parents wrote to tell us that their daughter had nominated Great Plains SPCA, they shared:
"

On April 8, 2013, we adopted Spirit Horse from your agency.  Our family pet, Larry, had passed away in January 2013.  Although we had intended to adopt a much smaller dog, Tristen had really taken a liking to a larger dog called "Spirit Horse" during her visits to your shelter  Ultimately, this larger dog was more the size that Larry had been and was, according to the volunteers at the shelter,  incredibly patient.  This sounded ideal given  and our five and seven year old girls.  Tristen and Spirit Horse are very close. Although Tristen is only in second grade, she has been going to Cottonwood Point for their special development program for years before she was even in kindergarten.  Tristen had a serious speech delay and some other issues that have made things a little more challenging for her.  This is the first award she has ever received.   It was a no brainer for Tristen to nominate your agency  and it's wonderful volunteers for the

Kindest Kansas Citian Award
.
"
Grace, a member of our shelter staff, accompanied Tristen to the awards ceremony and was so excited to share in Tristen's special day. 
While we are so honored to be Tristen's "Kindest Kansas Citian," we are even more thrilled to hear of her incredible bond with Spirit Horse. Stories like this are why we do what we do. We have lots of pets just like Spirit Horse who are just waiting to make that special connection with you.
Thank you, Tristen, for choosing us as your Kindest Kansas Citian!

By: Andrea Steinbreuck
We love hearing stories of people finding the perfect addition to their family, and recently we received an e-mail from the Wiemann family that found their "perfect match" at Great Plains SPCA - TWICE!
In December of 2011, Mica and Jake Wiemann visited our Merriam location searching for a new companion for them and their two young boys, ages 2 and 5. After meeting several adoptable dogs, they still had not found the perfect match for their family. That's when one of Great Plains SPCA's Adoption Counselors suggested they meet with Brandi, a staff-favorite who also happened to be pit bull mix.
At first, Mica and Jake were hesitant to even consider a pit bull. "We have heard all the hype and stories in the media about 'violent, aggressive pit bulls.' We went home, did our research, and learned more about what the breed is like without the bias." After talking it over, they agreed to meet Brandi.
Brandi instantly stole their hearts. She was exactly what the family had been looking for. "She was an immediate hit – full of energy to keep up with my two boys, but very loving and so sweet-natured." Brandi helped break down the pit bull stereotype and opened the family's eyes to what wonderful dogs they are.
After a couple years with Brandi, the Wiemanns decided it was time to add another pup into the mix. They visited Great Plains SPCA's Independence Campus in 2013, and this time, were specifically looking for a pit bull. That is when they fell in love with a large brindle boy, whom they named Obi wan Kenobi, since their sons are big Star Wars fans. "He lives up to his name of a courageous Jedi,"  Mica explains "and Obi adores our boys."
Thanks to the recommendation of the Adoption Counselor, who was able to match the needs of the family to the perfect dog, Mica and Jake Wiemann are now self-proclaimed pit bull advocates. They strongly encourage those looking for a new family member to consider adopting a pit bull, as they now have two that have shown them more love than they could have ever imagined. "I just encourage everyone that I meet to have an open mind," Mica explains "because every dog (breed) is capable of love – and pit bulls are no exception."
Please check out our website to see our many amazing dogs available for adoption - including many pit bull mixes! We have Adoption Counselors on-site that can help you find the perfect pet for your family.
Thank you to the Wiemann family for sharing their story and for being advocates for pit bulls!
During the tragic explosion at JJ's restaurant, Perseus ran away out of fear. After thousands of people in Kansas City searched for Perseus for weeks, he was finally found and reunited with his owner. As soon as Perseus saw his owner, he came running. Hearts are feeling whole again... see the joy in both their faces as Perseus and his owner were reunited.
Fats (Domino), Tatoes to us, is a 14 year old Dalmatian mix who lost his way home.
Fats Domino went missing in July and came to our shelter on August 7th and stayed with us until September 12th, when his owners found him.
He had gone missing in July and while the family searched, they could not find him.
Obviously, they were overjoyed when they reunited with their beloved dog that has been a member of the family since he was a puppy!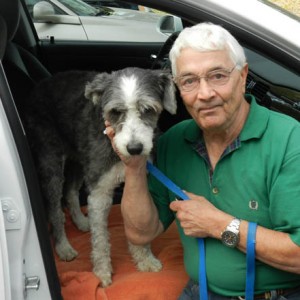 Margo is a senior dog who entered the shelter on August 16th. Brought in by animal control as a stray, Margo wasn't in very good shape, but with the love and care provided at Great Plains SPCA, she quickly went up for adoption. Seniors, unfortunately, are more difficult to place than younger pets. Margo was at the shelter for almost two months until she met her new dad. What's most remarkable about this story is Margo's adopter drove all the way from Kentucky after seeing her video on YouTube. Margo is now enjoying her forever home!